Dew Portal
Installation. Crystal sphere, light table, Kodak Slide film, Glass.
2022
Due to their spherical shape and translucent quality, dewdrops are small lentils capable of converging light rays, focusing and even projecting an image. Each dewdrop is in this sense a cinematographic manifestation, a movie projector of its surrounding world. Dew portal expands this idea further into a sculptural and photographic exercise.
A film slide rests between a light table and a crystal sphere, similar to a fortune teller's device. The objects are arranged so that the photograph is only visible when viewed from above. The work invites one to witness the appearance of an image, a certain revelation that occurs when the gaze is aligned on the optical axis of the sphere. What appears is a reflection of the sun on a vegetated pond; a fraction of the swamp that connects this work with
Earth Beamer II
.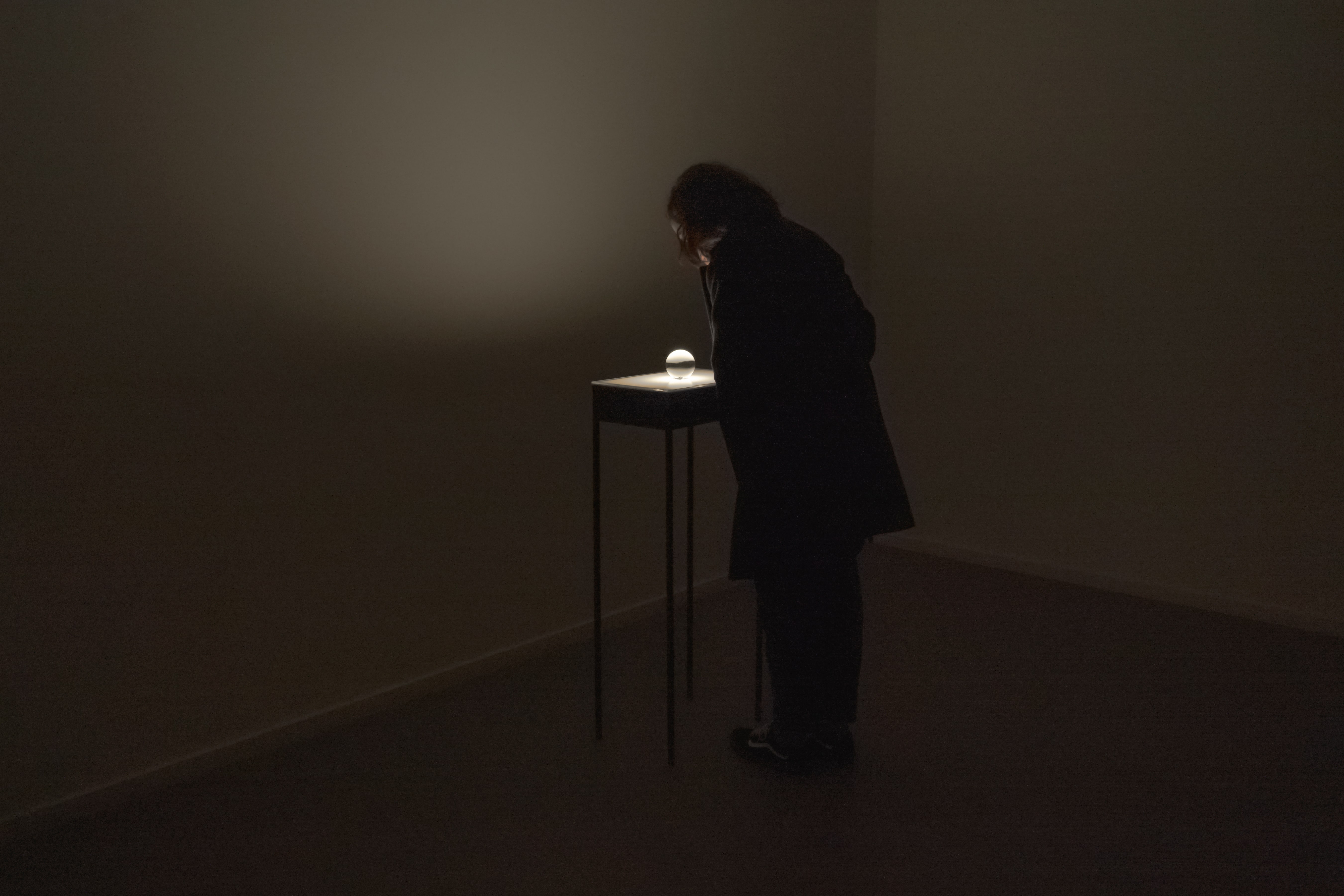 On show during "
Swamp Optical Trance
", solo exhibition at
Case Projektraum der Fotografie
, Cologne, 2022
ES
Por su forma esférica y su cualidad translúcida las gotas de rocío son pequeñas lentillas capaces de converger los rayos de luz, enfocar y hasta proyectar una imagen. Cada gota de rocío es, en este sentido, una manifestación cinematográfica que proyecta el mundo circundante.
Dew portal
expande esta idea en un ejercicio escultórico-fotográfico.
Una diapositiva reposa sobre una mesa de luz y bajo una esfera de vidrio. Los objetos están dispuestos de manera que la imagen de la fotografía solo es visible cuando es vista desde arriba. La obra invita a presenciar la aparición de una imagen, una cierta revelación que ocurre cuando se alinea la mirada sobre el eje óptico de la esfera. Lo que se revela es un reflejo del sol sobre un riachuelo lleno de vegetación; una fracción del pantano que conecta esta obra con Earth Beamer II. El reflejo en el agua es reminiscente de una galaxia, o sistema solar.